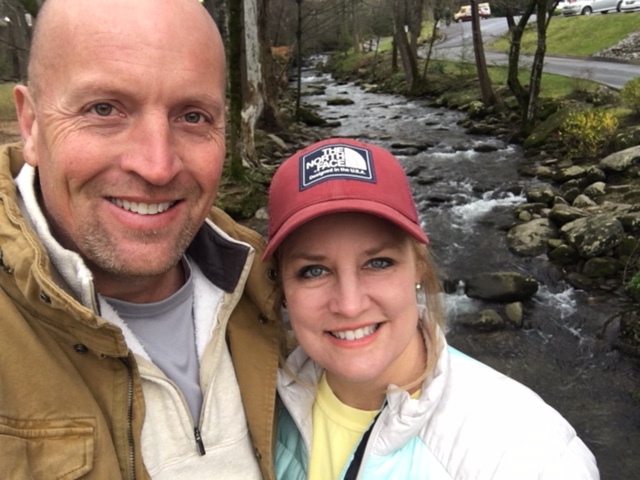 John and Kim Russ | Prayer Team Members & Greeters for Vista Host Team
When my husband and I visited Vista the very first time, we noticed the Parking Team. How could anyone miss them?? Their smiling, sun-glassed faces greeting you and waving you into your parking sections. We thought, "Wow! Thank goodness for them! This place could seem a little chaotic without them."
We also noticed the Greeters smiling and welcoming us and that a fully stocked Cafe area was hosted by a Cafe Team. Having been to churches for more than 20 years, we knew these areas would be run by volunteers, but we were honestly a little surprised at what appeared to be such a large, happy group of volunteers.
We believe strongly that serving others is a part of how we worship. Therefore, we contacted the Vista Connections Team to talk about serving. The Connections Coordinator was excited to have us sign up as and offered to meet with us. What we didn't expect and what was so new to us was to be asked where we felt led to serve, what we felt our spiritual gifts were, and how we thought they could be used best. For someone who has not volunteered before, or even for the experienced volunteer, this opportunity was so refreshing -- you feel a sense of ownership in your volunteering as you explore together all the areas in the church that need volunteers. The Connections Team and other Vista Staff work to partner you so that your passions align with a particular ministry's needs.
We are humbled and grateful for the opportunity to be a part of Vista! The ability to love God and love people by sharing a small part of our Sunday morning or evening has meant everything to us! We are able to greet others by welcoming them and praying with them, and even by helping to facilitate a Starting Point class.
The experiences we have while serving adds so much to our own time of worship by enhancing our closeness with our church family. We have gotten to know so many people at Vista through our opportunities to serve. If we are all honest, we don't usually grab people we don't know each week and say, "Hey! Tell me your name… Where are you from?" However, when you serve, it opens the door for you to do exactly that -- and in a way that creates open and receptive relationships with other church members.
"The family of Vista Volunteers is a great place to meet people! Start today! No matter how long you've been visiting, there is a place for you to serve."
ARE YOU READY TO JUMP IN WITH the VISTA Host Team?

Visit www.thevista.tv/serve TODAY!

CLICK THROUGH THE PHOTOS BELOW TO a few OF THE EXCITING WAYS YOU CAN SAY "YES" TO SERVING!